1981 and 1987 Grand Prix Instrument Cluster Set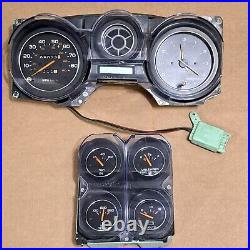 The set has been in storage since 1999 in a box. I believe the instrument cluster set will fit the 1987 as well, but may be somewhat cosmetically different. That being said, PLEASE verify your own specific application with your local GM dealership. I have not tested the part and cannot state any warranties as to if the set works or not as I do not have anyway to test it. I can say it was working when it was in the car at the time of removal. I did notice that one of the mounting corners next to the clock was chipped off.

I know it can be repaired, but it is a flaw that I saw and wanted to note. Otherwise, I saw no other issues.

This 1978 Pontiac Grand Prix Instrument Cluster set is in my opinion in overall very good condition for its age, extremely rare, extremely hard to find in this condition and would definitely be an asset to your 1978 Grand Prix restoration project. Please view the picture and make sure the part is the correct application.