Carpet Kit For 1969-1972 Pontiac Grand Prix 2 Door Automatic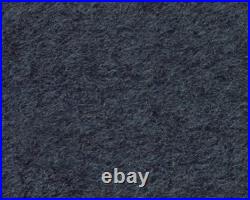 ACC Brand Carpet Compatible With: 69-72 Pontiac Grand Prix 2 Door Automatic. The picture above is the correct carpet for this item but may not represent the color that you select. As with all of our carpets, the mold is created from the original floor pan, providing the best quality and fit. Unless Specified, the carpet will have a heavy Jute pad which protects the foot area around the foot wells, soften the floors for your feet, as well as deaden any sounds from under the vehicle. The padding may be attached, or may be loose in the box, depending on the application. Unless specified, this item will have a heelpad welded in the correct location. You may request this heelpad be left off before the item is made.

Installation may require trimming around the edges and cutting the holes. Please watch the video for more details. All our products are Proudly Made In The USA! Please read our Install Instructions Guide.

We have been BBB Accredited since 2010. Please watch our video below for more information and install instructions. (opens in a new window). This item can be custom made in the following colors.

Due to the reproduction process and the difference in monitor calibration, exact colors are difficult to show. These samples are close to the actual color, but might differ slightly for your monitor. Our nylon cut pile is constructed from 100% first quality yarn and is similar to what is found in most cars since 1974.

It is tufted on a 1/8 gauge machine with 14 ounces of yarn per square yard. It is dyed using the finest dyes available and tested for ozone humidity fading & light fastness. Our Neon Cut Pile colors are a great look if you want to make a statement! Although these are not stock colors, they would be appropriate for all applications. There is an additional 15% charge for all applications made with Neon Cut Pile.

This material is made of a 100% Nylon yarn called Raylon. It contains 20 ounces of yarn per square yard and is a reproduction of the original carpet found in domestic automobiles from the 50's to the early 70's. This material is appropriate for pre-1974 applications only. This carpet is a super plush upgrade to our standard Cut Pile.

A 100% nylon cut pile manufactured with over 40% more nylon fiber than our standard cut pile. There is a surcharge for all carpets made with Ultra Plush Cut Pile. Unless specified above, this item will be made with Polyethylene backing. This item can be customized with Massbacking, which is a 40mil thick Ethylene vinyl acetate giving the carpet a more rigid and dense rubber backing to reduce heat and noise within your vehicle.

Please note that the type of backing you chose does not affect the quality of the carpet, nor does it affect the way that the carpet will fit your car. All carpet kits are custom made, and they are manufactured as-ordered. For this reason, we strongly recommend that you request a free set of samples so that you can see first hand what color that you will be ordering. Once the product has been installed, it is impossible to determine if it was manufactured incorrectly or installed incorrectly.

It is the customer's responsibility to verify that they received the correct product BEFORE cutting, altering or installing the product. We recommend that all customers read our Install Instructions Guide. In some cases, a digital photo may be requested from the customer, and may be sufficient evidence. Our Product Fit Guarantee only applies to vehicles that have not been modified from the factory original specifications.

We do not guarantee that our products will fit aftermarket modifications or will fit with other aftermarket products installed. The products we sell are designed and manufactured to fit as original; any exceptions will be listed on the item detail page. Stock Interiors is proud to offer the highest quality aftermarket automotive carpeting and floor mats available to the industry.

Our custom molded carpet sets are NOT off-the-shelf universal carpets that never fit quite right. We use the original floor pan to mold the carpet kits, providing the best quality and fit. We make custom molded carpet kits for most cars, trucks and vans from 1940 to the present. We would be proud to be Your custom molded auto carpet source!