Magnaflow 418005 Catalytic Converter Oval 2.25 In/Out California CARB OBDII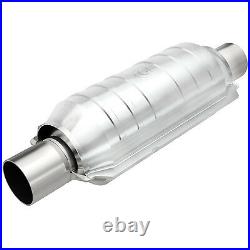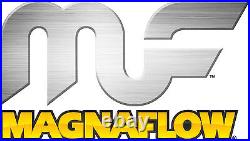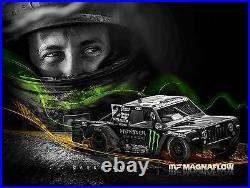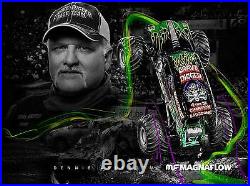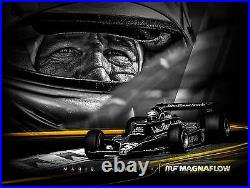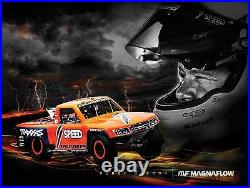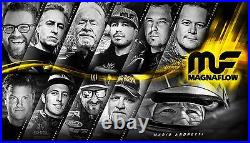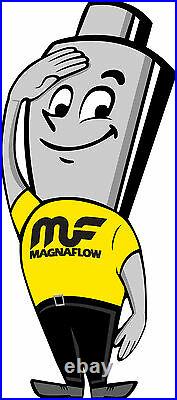 Magnaflow 418005 Universal Catalytic Converter. Emissions Compliance: California (CARB) OBDII. Features: UNIVERSAL CATALYTIC CONVERTER; CALIFORNIA OBDII - VEHICLE SPECIFIC. Yes (California registered vehicle MADE IN 1996 AND AFTER). MagnaFlow California OBDII Catalytic Converters are the first series of a new line of converters designed for use on vehicles equipped with Second Generation On-Board Diagnostic (OBDII) systems.

They are designed, tested, and catalogued for specific vehicles. They are not traditional universal converters. These converters have higher efficiency than conventional strict California requirements for conversion efficiency and durability.

These converters are warranted for 5 years or 50,000 miles on the converter body and 5 years on the performance of the internal catalyst, including replacement for OBDII diagnostic codes for low catalyst efficiency. Developed to meet even the most stringent tailpipe emissions and the ever so important OBDII catalyst monitor requirements. It has an optimized PGM loading and washcoat formulation that addresses the needs of computer controlled On-Board Diagnostic-equipped vehicles.

MagnaFlow engineering eliminates false fail catalyst-related diagnostic codes by addressing specific Oxygen Storage Capacity needs. MagnaFlow Universal Catalytic Converters form the basic building blocks for a comprehensive line of direct-fit applications. The main benefit of the universal catalytic converter is that one unit may cover a wide variety of vehicle makes and models. Installing universal converters often requires the use of welding, cutting and tube bending equipment that is readily available to most professional installers. Under the conditions stated on the certificate, the catalytic converter is warranted for: A 50,000 miles for California exempted OBD-II converters; or B 25,000 miles on all other converters, from the date of installation.

Others may employ one or two of the following features, but only Car Sound puts them all together to create a catalytic converter that exceeds basic need and function. Our years of research and development have resulted in many unique features that are exclusive to Car Sound.

We combine efficient manufacturing techniques and state-of-the-art industrial design to produce an end process and product that sets, rather than meets, the highest standards of product performance andefficiency in the industry. Car Sound converters have a ribbed body that minimizes expansion and distortion when the converter heats up.

The ribs form a channel that protects the cushioning mat from direct exposure to exhaust gasses and they hold the ceramic catalyst in proper alignment. Car Sound converters have a 1/2 inch lap-joint where the necks meet the body. The neck does not extend into the converter body where it could hamper exhaust flow.

We maintain separate dies on different sized inlets. We do not skimp by putting larger neck sizes on smaller bodies. This would reduce the flow of the converter and reduce the quality of our product. Car Sound uses a monolithic honeycomb catalyst. The ceramic is designed for maximum flow and surface area.

The coating method is strictly controlled to maintain exact specifications. An improper coating could result in flow restrictions or an emission test failure.

Car Sound uses a heavier gauge stainless steel, tip to tip. Others use mixed weights and materials. Car Sound converters are seam welded close to the converter body for a strong, tight bond.

We do not weld along the edge which could allow the converter to expand like the folds in an accordion, allowing the catalyst to move around. Car Sound installs a factory capped, 90 degree air tube on converters for older vehicles that need air tubes. This saves time during installation.

There is no need for additional labor to weld on an air tube or to create a bend when only an air tube stub is provided. Car Sound uses an aluminized or stainless OEM-style ribbed heat shield that creates a rigid wall of protection against heat and adds to the structural stability of the converter. The item "Magnaflow 418005 Catalytic Converter Oval 2.25 In/Out California CARB OBDII" is in sale since Tuesday, August 30, 2016.

This item is in the category "eBay Motors\Parts & Accessories\Car & Truck Parts\Exhaust\Catalytic Converters". The seller is "dotcomparts" and is located in Oceanside, California.

This item can be shipped worldwide.
Brand: Magnaflow
Country/Region of Manufacture: United States
Warranty: 5 Year
Manufacturer Part Number: 418005
MPN: 418005